The Pudding and
Kontinentalist

present...
Why are K-pop groups so big?
Try typing "Why are K-pop groups..." into Google search and autocomplete offers several suggestions: "...so large," "...so big" and "...so popular." The rapid global growth of Korean music over the past decade has puzzled non-fans (and even experts), and it seems that the size of K-pop groups might be a mystery, too.
Traditionally, rock bands have as many members as there are instruments: a lead singer, two guitarists, and a drummer. Popular Western boy groups—like The Jackson Five, New Kids on the Block, Boyz II Men, Backstreet Boys, N*Sync, The Jonas Brothers, One Direction—and girl groups—like The Supremes, Destiny's Child, TLC, The Spice Girls, and Little Mix—have ranged in size from 3-5 members. Compared to those numbers, K-pop groups with 7 or 9, or even 23 members (yes, a group that big exists) might seem alien, or downright excessive. And yet the average size of the top 10 selling K-pop groups of the last decade (like girl group TWICE, pictured above) is 9 members.
So, how did groups get that large? What about large groups is so appealing? And, what do the sizes of K-pop groups tell us about why K-pop is so popular?
To answer those questions, we tracked trends in group sizes and member roles over modern K-pop's 30-year history, breaking the numbers down across the industry's three generations of artists.
K-pop Group Sizes, 1992-2020
width denotes group size
2 members
4 members
The top 10 K-pop groups by record sales over the past 10 years validate these trends: five debuted as super-size groups, four have official subunits (and one, NCT 127, is itself a subunit), and three are the product of idol survival shows.
The Most Popular K-pop Groups by Albums Sold, 1/2011-6/2020
As we noted earlier, rock bands typically consist of a lead singer, a drummer, a bassist, and a guitarist. K-pop group members have similar specialized roles across leadership, rap, dance, vocals and visuals. This kind of segmentation allows for a clever division of labor and screen time, song parts, and placement in photoshoots and choreography are often allocated according to these roles. Take a look at the many roles of the members of BTS: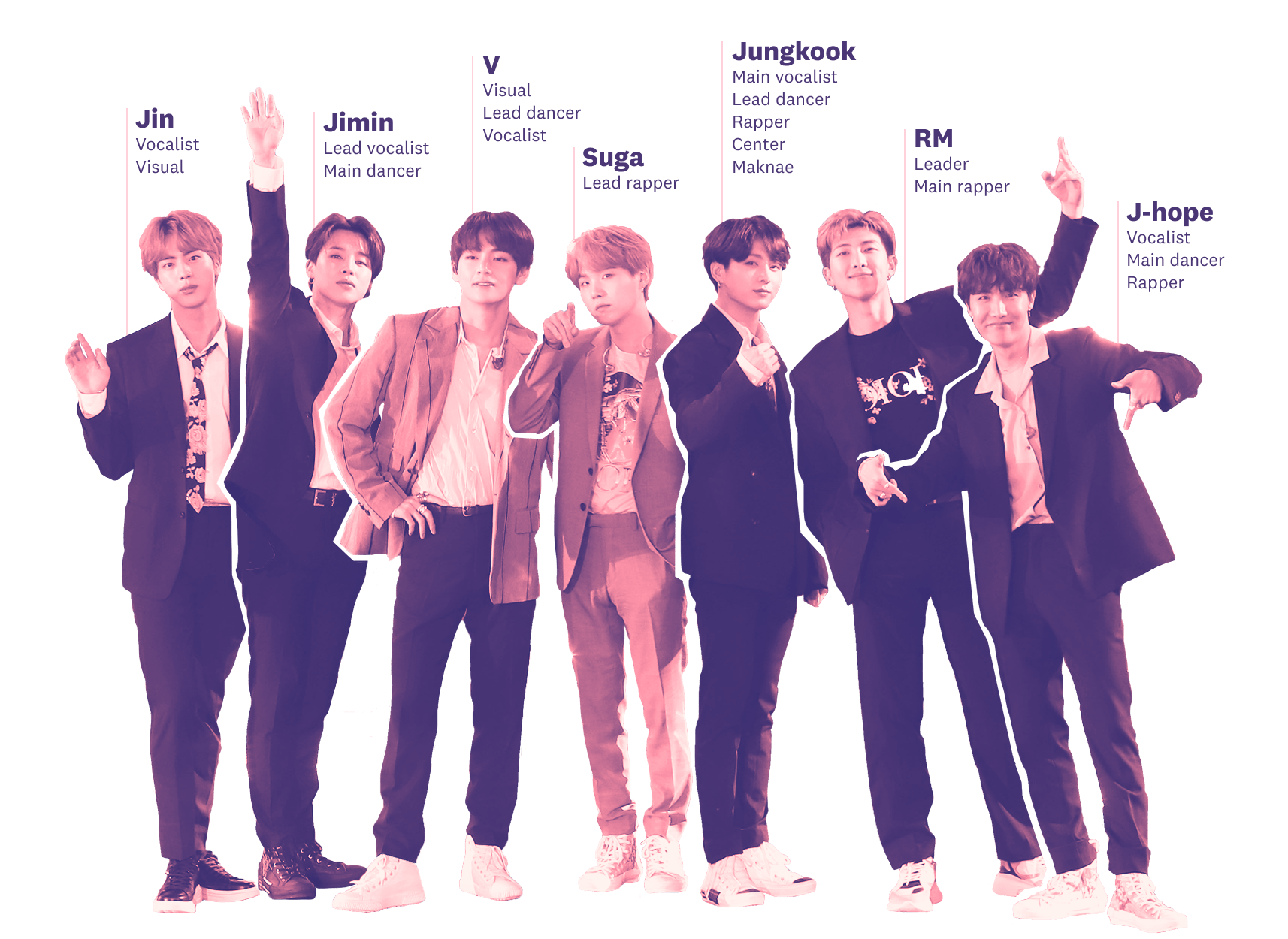 You can see that members have multiple roles across disciplines, with varying levels of responsibility. If all this information feels overwhelming, it might help to think of a K-pop group as a soccer team. Even when players are the size of ants on TV, soccer fans watching at home can tell them apart not only by their mannerisms, but by their position on the field. A forward may fall back to play defense, but you can usually find them upfield. You can think about K-pop groups the same way: the main vocalist dances, but they'll always be the one belting out the high notes.
Fans will often choose a favorite member within the group, called their "bias," and a second favorite member called their "bias wrecker." And, just as sports fans collect trading cards, K-pop fans collect photocards of their most-loved members. These come with albums and other merchandise and are often traded among fans in online marketplaces. Larger group sizes not only offer a broader diversity of members to bias, but also can establish a deeper bond to the group overall: the larger the group, the more members there are to love. Plus, once you've taken the time to learn the names and roles of, say, nine people, that investment is rewarded not just with a better understanding of how the group functions, but how the members relate to each other.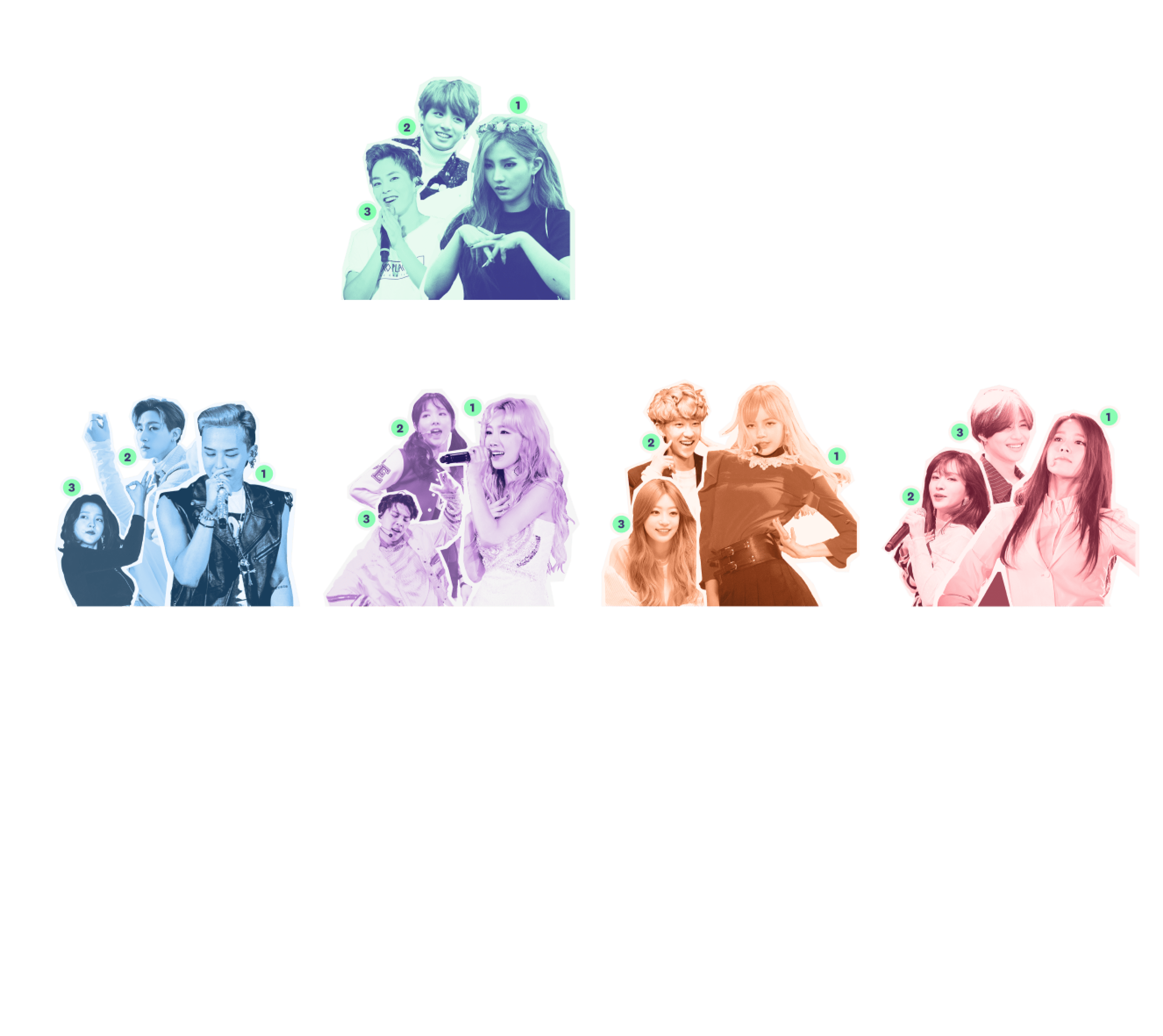 Just as group size has changed over time, the popularity of certain roles have ebbed and flowed. To investigate how they have changed, we looked at the number of groups with members in each role.
Change in Band Positions, 1992-2020
To wrap this up, let's return to the Google Search that brought us here: Why are K-pop groups so large? The answer lies somewhere within the popularity of super-size groups, the growth of trends in casting, subunits, and survival shows, and the shifting roles within groups over time. We've seen that group sizes aren't arbitrary—in fact, they were developed over three decades of refinement and reinvention—and that, like the K-pop industry itself, groups have exploded in size since the humble beginnings of Seo Taiji and Boys.
Ready to experience the power of super-size group performances? We made a playlist of some of our favorites:
Methodology
The dataset for K-pop groups was based on Wikipedia's list of South Korean idol groups. We then narrowed the list to include only groups with K-pop listed as one of their genres (except Seo Taiji and Boys, because they served as the foundation for K-pop). Debut group sizes and current positions were collected from K Profiles. We determined the top 10 3rd generation groups based on data from Gaon's Album Chart from 2011 to the first half of 2020.